It's amazing what a little color and styling can do to improve the look of a room. If you follow @modernbocamom on Instagram, you may have noticed that we're working on redecorating our house this year (one room/space at a time). I've been lobbying for a Boca Raton guest bedroom makeover, but it was rather low on the house priority list because of the expense of our recent pool and patio renovation.
But when you happen upon an unbelievable Memorial Day weekend bedding sale, you have to go for it right?
---
Boca Raton Guest Bedroom Makeover:
BEFORE
Lovely, but sooooo beige….
I hung up our silk floral monogram from our wedding…which I kind of dug. Most of our houseguest entertaining involves people who attended our 2011 nuptials, after all. 🙂
AFTER
We purchased new queen size bedding for the guest room from Sears (of all places!).
I re-styled the existing bedroom accessories.
I hung up my "works of art" from all the Wine & Paint Nights I've attended at the Boca Raton Children's Museum on the walls.
It was easy, but made such a difference!
What do you think? The room now has some nice color contrast (floor/furniture/walls vs. bedding & accessories) and looks much sunnier, in my opinion.
It also has its own bathroom and this not too shabby view, so we expect to have a good amount of visitors this coming winter.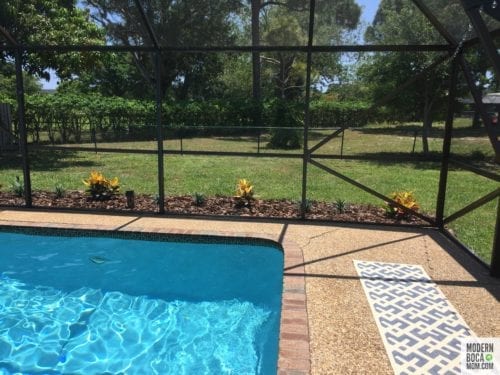 Our living room renovation (which was a big one) and #dailybocaavery's "Big Girl Room" are up next on my home to do list!
Happy summer (re)decorating Boca Raton!