Sponsored
If one of your most deeply rooted parental fears is that your Boca kid will NOT get into a good college or university someday, then I have some reassuring news for you!
Out of the 2,400 or so 4 year colleges and universities in the U.S., all but about 150 accept 50% who apply.
After hearing that little factoid at Grandview Preparatory School's recent Community Education Night, featuring college admissions expert Dr. Robert J. Massa of Drew University (NJ), I feel pretty confident that my child is going to do more than okay in her quest for higher education.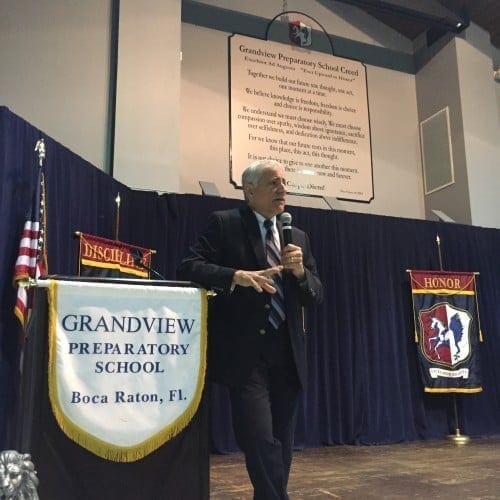 In fact, I now know that it's not really about finding the "best college," but the best college for HER.
A veteran of 40+ years in college admissions, Dr. Massa talked about the ins and outs of the selective college admissions process, how students can distinguish themselves among the competition, and how to find the best college fit for the student.
If you're a bit closer to the application process than I am, then these selective college admissions tips from Dr. Massa are for you…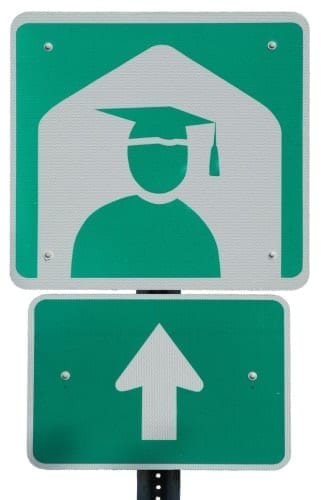 How to Find the Best College Fit for Your Child
Your child has to know himself/herself. How do they learn best? Who do they want to be? When it comes to learning, do they learn best by interacting with the subject matter directly or debating it with fellow students? Does learning happen more naturally for them via fieldwork or an internship or solo study? Are they interested in service? All of these questions are super important when determining what type of academic environment your child will thrive in.
Dr. Massa Tip: Make www.learning-styles-online.com your first stop to determine your child's learning style.
Learn about the college/university. Do your research in advance! Check out the website with your child and dig into the academics section and student newspaper to try to get a real feel for the school and campus life. Develop some good questions to ask when you…
Visit and connect with people. Personalize the admissions process by having your son or daughter reach out to any faculty they are interested in speaking with prior to arriving on campus. Set up a meeting via email– what do you have to lose? Connecting with people is a key part of the admissions process. Take an active role!
Break out of the admissions show. Don't fall for the "open house display" that most schools will put on. Stop students on campus and ask them why they chose that particular college or university. Ask faculty why they teach there. Pay special attention to campus facilities to see how the college or university is investing their resources. 

If your child already has an idea for what he or she wants to major in, sit in on a class to get a live look and feel for what to expect in the future. If your child happens to be 

interested in a business career

, sit in on a business management or economics class. If your child is interested in education, be sure to audit a class on teaching or learning in school settings.




Dr. Massa Tip: Make sure that your child would want to attend every school on his/her list!
Make sure your child's transcript has depth. In a time when many colleges are making the submission of SAT/ACT scores optional, how do you make sure your child's transcript stands out? Answer: Depth of experience. College admissions officers no longer want to see dozens of extracurricular activities on a transcript. They want to see a student's commitment to and experience with one or two. Good grades on a strong transcript are still a key selection factor, but evidence of creative and entrepreneurial learning is going to make your child stand out in the applicant pool.
After following all of the "How to Find the Best College Fit" steps above, Dr. Massa recommends having your child apply to 6-7 first choice colleges.
Pretty soon, the only thing you'll have to worry about is paying for the whole thing. Time to start saving MBMoms…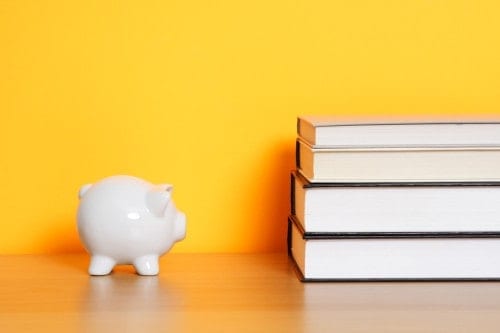 ---
ABOUT: Robert J. Massa serves as Senior Vice President for Enrollment and Institutional Planning at Drew University in Madison, NJ. He is responsible for admissions, financial aid, athletics, career planning, the Registrar and Institutional Research. Prior to assuming his current position in February, 2015, Massa served as Vice President for Communications at Lafayette College.
Massa received his bachelor's degree from the University of Rochester and a doctorate in higher education from Columbia University.
---
Sponsored: This "How to Find the Best College Fit" post was sponsored by Grandview Preparatory School. All opinions expressed in this blog post are my own and not influenced in any way by the sponsor.  Any statistic, quote or other representation about a product or service should be verified with provider. Please refer to this site's Disclosure for more information. I have been compensated or given a product free of charge, but that does not impact my views or opinions.