Sponsored by the Waterstone Boca Raton
Last week was one for the books. Between all of #dailybocaavery's fall activities starting, work deadlines and the "will it/won't it hit South Florida" Tropical Storm Erika, I felt like I was in constant G-O mode. I may be an MBMom, but I'm also human and by Thursday, I was completely exhausted.
Every once in awhile, us bloggers get invited to experience a hotel or vacation destination for consideration in an upcoming blog feature. I'm not going to lie– it's totally fun, but coordinating these things along with childcare and work schedules can be complicated. Like any regular vacation or staycation.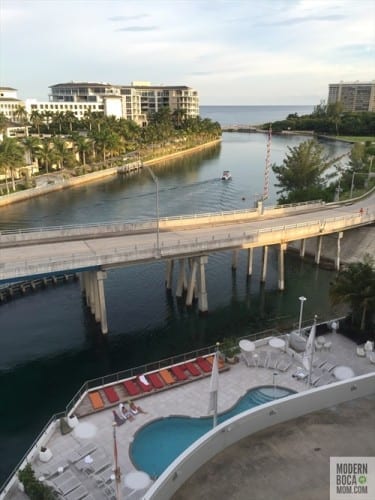 Waterstone Boca Raton
Boca Raton's Waterstone Resort & Marina – A DoubleTree by Hilton invited our family for a little overnight and let's just say I was pretty much sprinting to the car with my overnight bag by 5PM. We had Avery with us for a little at the Waterstone Boca while and then asked my mom to pick her up, so we could enjoy our dining experience at Boca Landing in peace.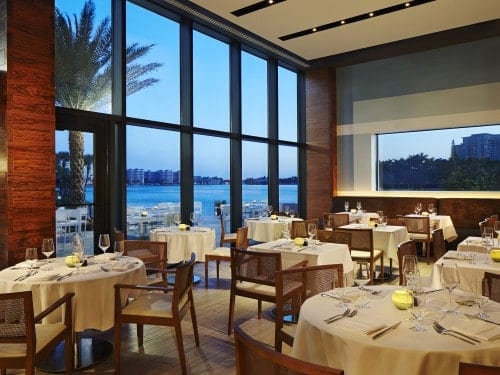 Keep in mind I personally think the Waterstone Boca, even though it's marketed with more of a cool "South Beach vibe," is child-friendly.
We stayed at the hotel (on our own dime) over Memorial Day Weekend and had a blast eating (and drinking) by the pool and even ordered food to-go and ate on the balcony of our room when it was Avery's bedtime. There are even water sport options for older kids. So either way you slice it, I dig the Waterstone. I see it as my little Boca vacation zone!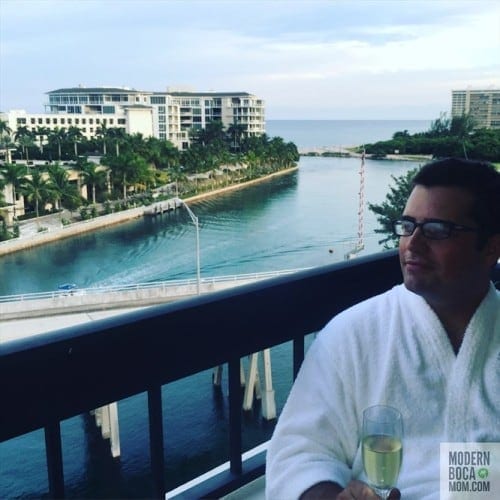 Clearly, #modernbocadad agrees.'
Arrival at the Waterstone
When we arrived at the Waterstone Boca, our Boca Mom car was valeted and we were greeted with champagne and cold drink options. Fancy!
And how beautiful is this Waterstone Boca lobby? Even if you're not staying at the hotel and are just visiting for drinks or dinner, this artsy gorgeousness is what you get to walk through every visit.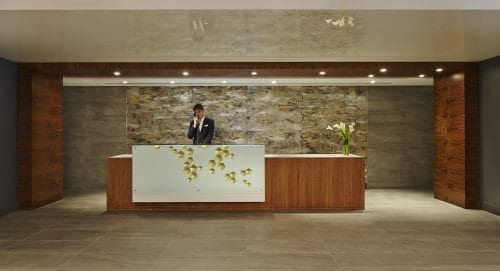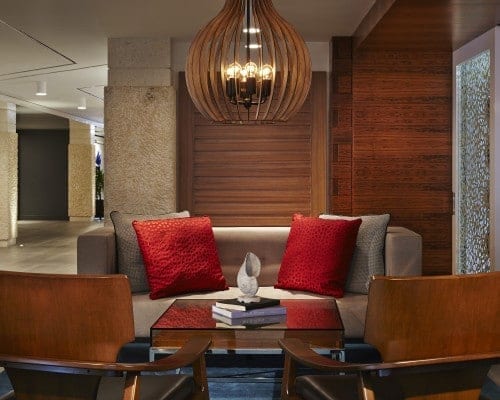 From the lobby, we were shown to our beautiful room with a full view of the intracoastal AND ocean on the 9th floor. The last time we were at the Waterstone Boca, we stayed on the Lake Boca side of the hotel, which was just as beautiful.
We particularly enjoyed sitting on the balcony (#dailybocaavery too). It almost felt like we were on a cruise ship!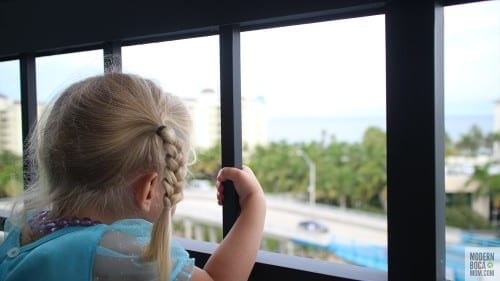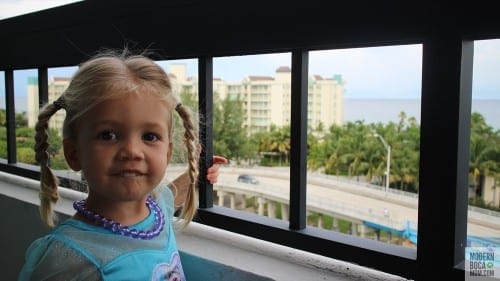 Once grandma picked up Avery for the night, it was time for cocktails and dinner at Boca Landing!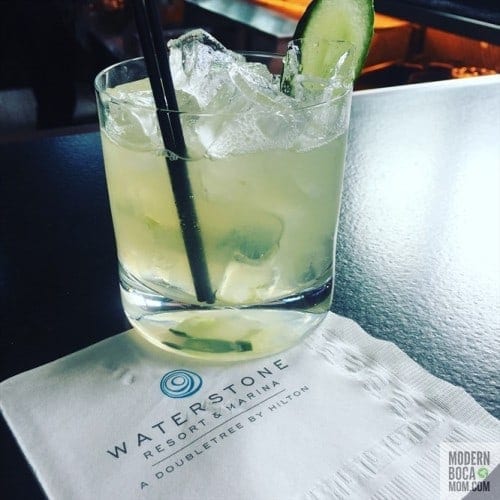 Dinner at Boca Landing
Using locally-sourced ingredients to produce a variety of dishes and cocktails, Boca Landing provides guests with a distinctive food style conveying "just off the boat" elements.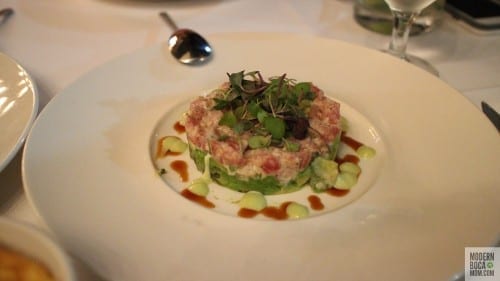 Executive Chef Matt Mixon (who met with us personally) brings a balance of superior cuisine, innate knowledge and a deep passion to the restaurant and culinary offerings of the hotel. With unprecedented, 180 degree views of Lake Boca, Intracoastal Waterway and the Atlantic Ocean, Boca Landing restaurant provides guests with upscale dining in an art-inspired, water-centric atmosphere.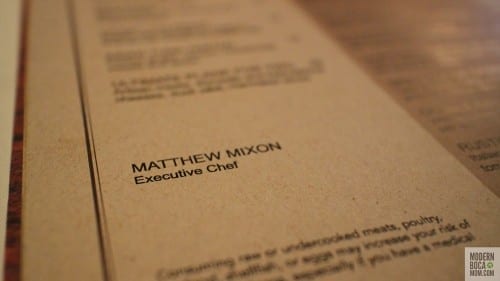 Boca Landing features seafood caught off of Florida's coast along with influences from Mixon's French and Italian heritage. The menu showcases creative small plates, a selection of simply prepared fish and meats and delectable side options made to order and easy to share.
And you don't have to be a guest at the hotel to dine at this delicious restaurant- FYI. 3 hours later, this is what we sampled…
Our top picks? The Tuna Tartar, Sea Scallops and the Double Cut Pork Chop. Holy Moly. Chef Matt told us that the menu will be changing soon (for the season), but those items will stay on because they have been such hits. Thank you for having us Chef Matt!
---
Waterstone Bar & Grill + Pool Area
After dinner, perhaps you might feel like having another drink al fresco at the Waterstone Bar & Grill or taking a dip in the hotel pool? We had big ambitions for the evening, but ended up heading back to our room and going right to sleep. I know. So boring. Our stay at the Waterstone went way too fast.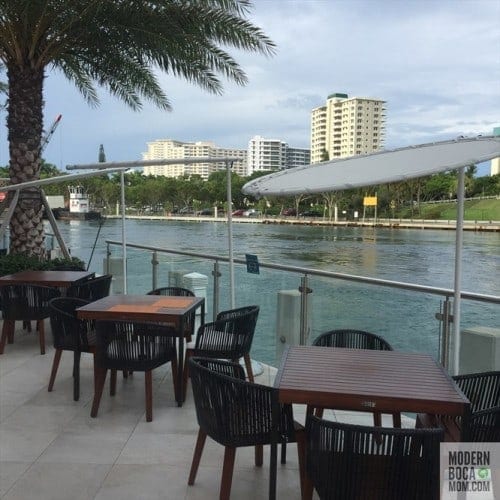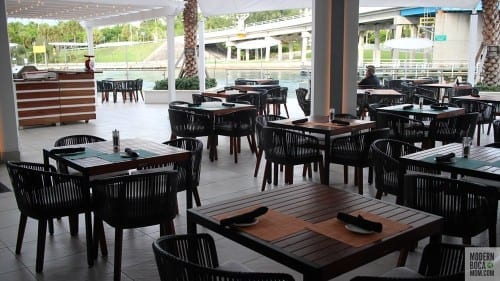 And how cool is this? You can borrow bikes to ride along A1A. I haven't seen a bike sharing program in Boca yet! Great idea Waterstone!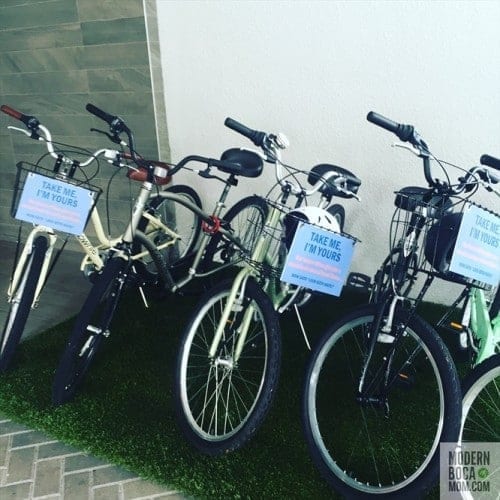 Our little weekday escape did the trick. It recharged my mom batteries and reminded me why I love "staycation-ing" in Boca so much.
Why leave the zone if you don't have to?
---
Sponsored: All opinions expressed in this blog post are my own and not influenced in any way by the sponsor.  Any statistic, quote or other representation about a product or service should be verified with provider. Please refer to this site's Disclosure for more information. I was given a complimentary one-night stay at the Waterstone and dine at Boca Landing, but that does not impact my views or opinions.