The time leading up to Thanksgiving all the way to Christmas is like the perfect storm for me.
Every. Single. Year. And now I have a little one to add additional (cute, though) chaos.
A very tired #dailybabyavery in 2013
#modernbocadad and I usually prepare for a trip to Maine somewhere in the November/December time frame to visit the in-laws, which means early holiday presents for all of our family (and extended family) up north. (Oh yes- Delta gives us 4 FREE bags with every trip, so MBMom takes advantage to save on shipping!)
So, MBMom has lovingly (and quickly) prepared a comprehensive 2014 Holiday Gift Guide, so you can take advantage of my madness. Hey- someone needs to!!!
Read on to find the perfect gift for MBMom, MBDad, your #BocaKid and everyone in between…
---
Gifts for the Modern Boca Mom
The Skinny Skort. The "Skinny Skort" is a wardrobe essential that provides a slim and shapely appearance by minimizing women's lumps, bumps and muffin-tops. This unique skort is equipped with built-in compression shorts (think Spanx) that deliver smoothing support, instantly producing an improved body shape. It's an effortless, everyday throw-on and a slenderizing confidence builder. Excellent for leisure, sports and travel. I even rocked one when I went shopping at Omaha Steaks recently! Get 20% off + FREE shipping with code: MBM20. Price, $98.00. Shop here:

http://www.kikic.com/
Sitota Collection Candles. The Sitota Collection's luxurious home fragrance line offers the perfect gift this holiday season. The Petit Excursion Candle Quartet explores the exotic scents of Havana, Aigyptos, Blue Nile and Coco Noir. This high quality, on-trend candle collection features four captivating and sensual fragrances that invigorate the senses to awaken memories most treasured during the holiday season. You better believe these have been burning in our house this fall! Price, $65.00 for a set of four. Shop here: www.thesitotacollection.com
Shani's Boutique Jewelry. If you've seen me at a recent MBMom event, I've probably been wearing this designer's fab jewelry! My favorite are her statement necklaces, but she has gorgeous bracelets and earrings as well. Her pieces are beautiful and always on-trend. Prices vary (this look is $45.00). Shop here: http://www.shanisboutique.com/
You might also consider getting a gift of a watch this christmas, everyone loves receiving jewelry and you can learn more here.
Origami Owl Custom Jewelry. Everybody's doing it! Even MBMom…(I love rose gold!). Origami Owl Custom Jewelry makes the perfect gift! You can personalize a look for your grandmother, mom, sister, aunt, daughter or friend that tells a story she'll keep close to her heart. When you order your locket, you'll also receive a Holly Jolly Box of Happy to wrap up your gift! Plus ALL Orders of a Locket and Chain will receive a FREE Jewelry Cleaning Cloth, and all orders from now thru Nov 30th of $100 or more will receive another FREE Gift too! Prices vary. Shop here: www.mycharmingtrinkets.origamiowl.com
---
Gifts for the Modern Boca Dad
Beau Ties. Innovators in their field, each individual 'Beau Tie' is handmade and stitched in Vermont to ensure unmatched quality and craftsmanship. Modern Boca Mom received not only Beau Ties for "Dad" for review, but also men's socks and a little boy's bow tie as well! Too cute! They are fantastic quality and so unique. They even have an awesome holiday collection. Price, $35.00 and up. Shop here: http://www.beautiesltd.com/
GENESIS Wine Preservation System. Well, I suggested wine as a gift for MBMom, but I like to leave the wine GADGETS to #modernbocadad! The GENESIS wine preservation system uses a unique intellicork technology to preserve bottles of wine or champagne after opening. This is the FIRST at home system that works for both wine and champagne, letting wine lovers have "just a glass" and not worry about finishing the bottle. Price, $499.00. Shop here: http://www.genesispreserve.com/products/genesis
Omaha Steaks. Their holiday catalog is mouthwatering and affordable! Check out my complete review here. Prices vary. Shop here: http://www.omahasteaks.com/products/Gift-Center
---
Gifts for Your Boca Kid- BOY
Big Hero 6 Toys from Bandai. I cannot wait to give these to my nephews! Walt Disney Animation Studios, "Big Hero 6" is an action-packed comedy-adventure about robotics prodigy Hiro Hamada, who learns to harness his genius—thanks to his brilliant brother Tadashi and their like-minded friends: adrenaline junkie Go Go Tomago, neatnik Wasabi, chemistry whiz Honey Lemon and fanboy Fred. If you have kids over the age of 4, I'm sure you've already seen this movie.

Deluxe Flying Baymax

Large and in-charge, this massive Baymax is ready to fly into battle using all his great weapons and features. Towering at 11" inches with a soaring 18-inch wingspan, the Deluxe Flying Baymax features 20 points of articulation, multiple lights, sounds and other fun features such as a launching rocket fist. Baymax comes with a 4.5" Hiro Hamada figure, which when attached to Baymax's back unlocks additional flying sounds that vary depending on whether Baymax is flying up, or down. Price: $39.99. Shop where Bandai toys are sold.

Baymax Rocket Fist

Put the power of Baymax in your hands with the Baymax Rocket Fist. Easy reloading and fun launching up to 10 feet in distance – and soft material on the fist makes it safe, and fun to play! Price: $19.99. Shop where Bandai toys are sold.
SprüKits. The new poseable action figure model kits require NO GLUE, NO SCISSORS, NO PAINT. The next evolution in the original Japanese toymaker's best-selling model kits, SprüKits are designed with the most advanced injection molding technology available, parts snap together without glue, paint or scissors, as is typically expected in a model kit. For beginners to those seeking an intense challenge, three different levels offer construction play for all skills with increased complexity and build time, delivering a larger figure with sharper details, increased articulation and poseability. From Batman, Superman, and the Joker, in total there are 13 characters from DC Comics, Microsoft's Halo® and TV Tokyo's mega hit LBX franchise. Prices range from $9.99 to $54.99. Shop where Bandai toys are sold.
My Awesome Book.

This award-winning book-making kit nurtures creativity, strengthens literacy and builds self-esteem. These kits allow children to create and share their imaginative stories while honing in their communication skills. Lulu Jr. helps children unlock their inner creator and realize their potential as an author and artist. The kit comes with everything your child needs to create and illustrate his or her story, including markers, a quick start guide and a pre-paid envelope. A full-sized professionally-bound 8.5" x 11" hardcover book with your child's bio and author photo is returned. You can even order extra copies for Grandparents! Price, $39.99. Shop here: http://lulujr.com/MAB.php#.VGq9RPnF-So
---
Gifts for Your Boca Kid- GIRL
Tamagotchi. Remember these from when we were kids? Take care of your Tamagotchi Friend! This fun, interactive fun will grow and develop differently depending on how well you take care of it. Once your Tamagotchi egg has hatched, feed it food when it is hungry, give it medicine when it is sick, potty train it, bathe it and play games to earn Gotchi Points. For the first time, you can 'bump' with other Tamagotchi Friends to send text messages, send gifts, and even go on a playdate. The more you 'bump' the more points and rewards you will earn, and the higher your best friend meter will go. Then use your points to buy meals, snacks and jewelry. Price $19.99, ages 6-10. Shop where Bandai toys are sold.
Click-eez Bracelets. A new line of clickable, stackable bracelets, they are great for young fashionistas! They also come with the added bonus that their theme is Click not Clique and they are working to make a difference in cyber bullying with their bracelets that are designed to be traded and shared. A pack of five bracelets is priced at $9.99. Shop here: www.click-eez.com
Hanukkah Nail Decals. The Miracle of Hanukkah is at-hand! As the Festival of Lights comes closer, (Dec. 16 – Dec. 24, 2014) so does the biblical problem of what to buy for nice Jewish girls. Midrash Manicures offers the perfect option – Hanukkah Nail Decals! Each package includes 49 decals and, just like the oil, will last for up to 8 days! Price, $11.99. Shop here: http://www.midrashmanicures.com
Are You Kidding? Socks! You might remember Sebastian's story from a Mompreneur Monday post that we featured this summer, but here's a little refresher. Socks by Sebastian came to mind when Rachel Martinez, President of Are You Kidding, had a thought about her 5-year-old son's obsession with socks. His passion for collecting fun, crazy, and colorful socks gave her an idea to ask Sebastian if he would like to share his love for socks by creating his own designs that other kids can enjoy along side him. After a lot of hard work he helped create a sock line that would combine this creativity allowing other kids to "look cool" as he describes it. Today, Sebastian owns over 100+ socks and is constantly thinking of his own personal designs to share his passion with other kids. Price, $15.00 for a 3-pack. Shop here: http://www.areyoukidding.net/
While we're on the topic of socks, you might be interested in this as a gift idea: face socks. You can upload a photo of your face then have it emblazoned on a pair of socks. How fantastic is that?!
---
Gifts for your Boca Baby
Coolibar. Hey, we live in the Boca Raton area after all! Coolibar makes excellent sun protective clothing for the whole family that is stylish and comfortable. Locals and visitors alike will all be enjoying South Florida's outdoors this holiday season. Whether it's the beach or a hike, or even just running errands, sun protection in Florida is always a necessity. All of Coolibar's sunhats, garments and swimsuits are guaranteed to have an ultraviolet protection factor of at least 50. Oprah was so impressed she has selected Coolibar for the past two years as some of her favorite things. Coolibar will also be offering holiday shoppers free shipping with no minimum Nov. 28 through Dec. 1. Even this holiday season, sun protection in Florida is a must! Prices vary. Shop here: http://www.coolibar.com/category/Girls/Baby-3M-3T/pc/2220/2255.uts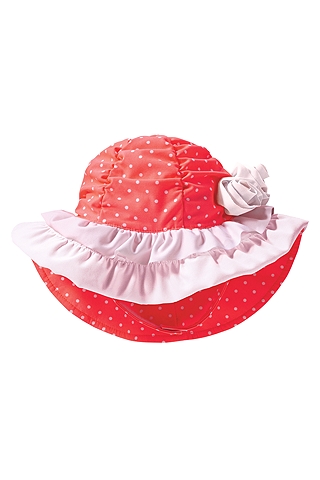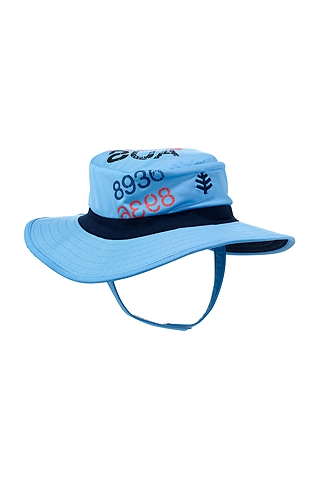 Box Full of Love Baby Hats. Designed by a SoFL stay-at-home mom, these hats were made for her own daughter when she was born and then the founder got inspired to make them for other babies! "Those hospital hats make every baby look the same, so I wanted to do something to make them stand out and make every baby have their own individual style." Price, $20.00. Shop here: https://www.etsy.com/shop/BoxFullofLove
Merry Stirring Mice by Cynthia Dreeman Meyer. Find out what really goes on the night before Christmas in this delightful turnaround on the claim, "not a creature was stirring, not even a mouse." Watch Mama Mouse and Papa Mouse show their kids, Max and Molly, how to prepare for the MAN. "Help your sister stir the candy cane mix," Mama Mouse begins. Soon come the sugarplums, the candy canes, and finally the note that says "For Santa." Add to the fun by searching for the mischievous spider capering through every illustration. This book was so much fun and got #dailybabyavery and I in the holiday spirit! Price, $15.37 on Amazon.com. Shop here: http://www.amazon.com/Merry-Stirring-MIce-Santas-Secret/dp/0982794347
---
Gifts for the Modern Boca EVERYONE!
Cliffton Dry Premium Cider. A uniquely refreshing beverage crafted from the finest local ingredients, Cliffton Dry Wine-Style Sparkling Cider presents a wonderfully delicate and pure, organically produced beverage. Cliffton Dry offers a low alcohol (5.5%), low-calorie and gluten-free bubbly that serves as the perfect standalone refreshment or accompaniment to the finest farm-to-table meal. The enticingly smooth, sparkling beverage pairs beautifully with fresh delicacies collected at a farmers market, or a delicious, healthy meal crafted from local ingredients. It could as easily be found taking the place of a fine sparkling wine at a restaurant, as it could in-hand on the deck of a beach house or boat on a warm summer's day. All in all, it's DELISH. I've been drinking a bottle while writing this entire gift guide! 😉 Where to buy: Whole Foods Market
Zeel Massage On Demand. #modernbocadad and I tried this a few weeks ago and it was amazing. I don't want to spoil the story of our experience (coming up later this week on MBMom), but this is a GREAT GIFT. Zeel Massage On Demand is the perfect gift for everyone on your list— significant others, Mom and Dad, Ivanka Trump. Choose between a single session, a couples massage, or the Zeelot starter kit (includes a professional massage table). Doesn't everyone on your list need a little instant relaxation and pampering? Price, $25.00 and up. Shop here: https://www.zeel.com/massage-gifts
iPic Gift Card. Holidays are about creating special memories with friends and families. What better way to impress loved ones than by giving the gift of a memorable luxury theater experience? iPic Theaters provide the ultimate movie experience for movie lovers and make wonderful gifts during the holiday season to amaze loved ones. iPic prides itself on delivering "superior comfort with exciting affordability" as well as offering the first leg-reclining seating option in the nation! iPic features revolutionary movie-watching comfort with reclining leather seats, service call buttons at your chair, sterile pillows and blankets for movie watchers. In addition to innovative cocktails prepared by world-renowned mixologists, iPic offers chef-driven cuisine that is a distinctly different culinary experience which can be served or brought directly to your seat. iPic interiors are the definition of luxurious and resemble nothing similar to an ordinary theater! Price, $25 to $500. Premium seating is priced at $14.00 and premium plus seating is priced at $24.00. Shop here: http://www.ipic.com.
---
Sponsored/Ad: Modern Boca Mom was provided with complimentary products or services from several of the companies/brands featured in this gift guide in exchange for consideration to be included. All opinions expressed in this blog post are my own and not influenced in any way by the sponsor. Any statistic, quote or other representation about a product or service should be verified with provider. Please refer to this site's Disclosure for more information. I have been given a product or service free of charge, but that does not impact my views or opinion.