It sounds like an oxymoron, but sometimes a Girls Night "In" is the best kind of Girl's Night Out!

---
A night out is great – to get dressed up, throw on some heels & paint your face is definitely a good time! But aren't we all a little more relaxed in our flannel pajama pants, a tank top and some slippers? That's when we can really let loose!
For this month's edition of Girl's Night Out, we are bringing it home, ladies!! And I did my research for this one! I (casually) polled some of my fellow Modern Boca Moms to see what THEY want to do on their next night "IN" and I think you're all going to really like their ideas!
It's a mix and match list so you can do one or do all – either way I promise you a great time!
---
Cooking Class / Make Your Own Dinner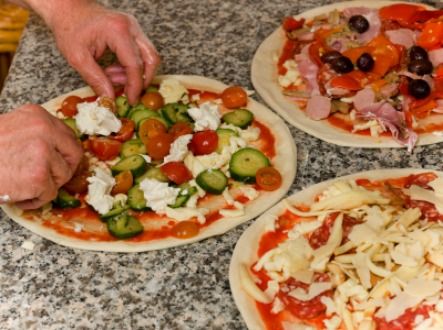 I know…it's supposed to be a relaxing night – who wants to cook dinner?? But cooking can be a fun and relaxing experience, especially with a little wine and your girlfriends by your side.
You could get as fancy or as casual as you'd like here! You can hire a catering company to come in and teach you and your girls to cook a 5-course meal, how to roll sushi like a pro or throw up the dough to make personal pizzas. Or, skip the instruction all together and wing it! Sometimes that's more fun anyway!
As a bonus: set up a candy bar or ice cream sundae buffet. Dessert is the perfect end to a great dinner!
Shopping (online) is so much more relaxing in the comfort of your own home, but actually seeing and feeling the merchandise makes it even better!
See if your favorite boutique will do a "private experience" with a select number of pieces.
What about calling up the Trendy Truck, #SOFL's first boutique on wheels? They will bring all kinds of fabulous clothes and accessories right to your doorstep, literally!
You can hire a professional to come in for the real deal! They bring everything, from the wine to the glasses, you just supply the thirsty tasters!
They'll also tell you how to classify wine, what region it's from, words to describe its taste and aroma and what foods you can pair with it.
Too much information?
You could also go super simple – have everyone bring their favorite bottle and set up your own tasting!! Get some grapes, crackers and mixed cheeses and you're all set!!
I'm not talking Monopoly or gin rummy (although those are 2 of my personal favorites!). We need fast-paced games that will make for lots of laughs!
Pictionary or charades – especially after the wine tasting – are oldies but goodies! Cards Against Humanity is a simple card game that is sure to be a huge hit – you will literally be laughing out loud! Catch Phrase is another good one! A little friendly competition between girlfriends is healthy – and winner gets bragging rights until the next Girls Night! 😉
---
Want an expert's advice for your next Girls Night? Our friend Miranda Murray, founder of Event & Design Services, has some tips for you:
Of course traditional wine tastings, spa nights or jewelry parties are always fun – and they're at the top of our list! But why don't you try to incorporate a twist into your night…perhaps a 'wine & painting' party or even a 'yoga & wine' party!
Feeling charitable? Make it a 'girl's night with a cause' to raise money for your favorite charity!
---
What are some ideas that YOU have for your next MBMoms Night "In?" Comment below!
---
Samara is a stay-at-home mom with a passion for health, fitness, and social media. In her "downtime" from mommy-ing two boys, she is an account executive for a boutique social media marketing firm and the founder of healthy living blog, Peace, Love and Ice Cream!