MOMpreneur: n. defined as a female business owner who is actively balancing the role of mom and the role of entrepreneur.
Happy Monday Modern Boca Moms! Welcome to our next installment of MOMpreneur Monday on MBMom, highlighting Florida businesses and brands that were founded by female entrepreneurs and fellow Mommas.
---
Today's featured MOMpreneur is the founder of ihelpmoms, the ultimate online Rolodex for moms, Michelle Brown!
---

When I became a mom, I had no idea how much "help" I was going to need.  Like most new mothers, I was pretty naive and never thought I would require things like a "qualified lactation consultant" or a "mother's helper" post-partum.  My brain just never made it past the labor and delivery part of child rearing!  Pretty typical…
I was lucky enough to have my own Mom with me in New York City for that first week of motherhood and then, of course, we moved down to Boca five months later. But, I know that not all parents have the luxury of having 'Grandma & Grandpa' close by.
That's exactly the situation the founder of ihelpmoms.com faced when she decided to launch a FREE online tool for moms by moms to make motherhood easier.
---
Tell me a little bit about your business background and how

ihelpmoms

 got started…
"My whole life, I have always had a heart for helping people and making people happy.  I spent nine years working in customer services, sales and marketing for the NBA, PGA and NHL in professional sports teams' front offices. My career centered around creating memorable and exciting experiences for sport fans," explained Michelle.
"In 2012, my husband and I were blessed with a beautiful baby girl [Ed note: and a second girl in 2014] and I realized there was an enormous need in today's hectic world for moms to get a well deserved helping hand from talented professional providers, to find affordable, local baby gear and to connect with mommy groups to fight things like post-partum depression and to get out of the house with like minded moms."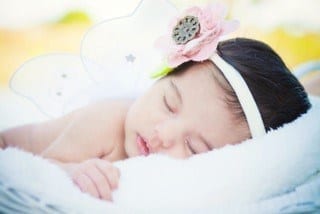 Did the need for a tool like

ihelpmoms.com

grow from your own personal experience with motherhood?
"I truly believed before having my daughter that I would be up and good to go after giving birth.  But, it just didn't happen that way for me.  I found myself 3,000 miles away from my family and friends [Michelle is from the West Coast], I was unable to get out of bed for weeks! I wasn't even well enough to pick up my newborn baby girl and then I had to go in for surgery post-delivery and my husband had to go back to work.  In those desperate moments as a new mom, I vowed to turn my helpless feelings into hope for moms everywhere," said Michelle.
I am truly on a mission to make motherhood easier and to ensure that no mom has to go through motherhood isolated and alone.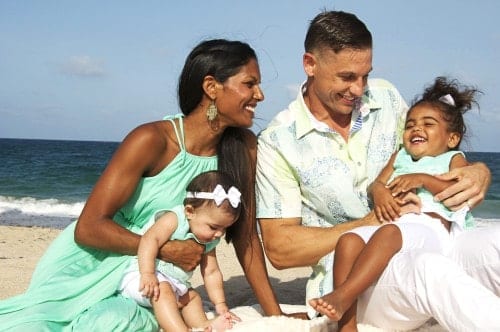 What makes your website unique and different?
"ihelpmoms.com is designed for moms by moms.  It is literally a one stop solution for moms to SEARCH for help, SHOP for affordable baby gear, and SHARE with like minded moms groups. This site is revolutionizing the way that moms can get the resources they need to be healthy and happy in one location.  As a busy mom myself, online accessibility is what I prefer and now moms have a central location to find ALL things relating to 'mom," answered Michelle.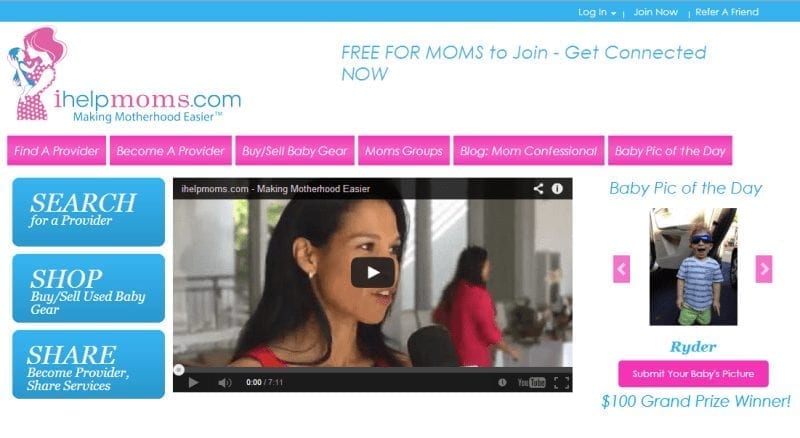 Why should Modern Boca Moms (and beyond) become part of the ihelpmoms.com network?
"Modern Boca Moms have a great editorial resource on your amazing website to discover shopping, family activities, fitness and how to enjoy the Boca/South Florida lifestyle!  I believe ihelpmoms.com would be an excellent extension for those readers who want to find things like a mom-recommended lactation consultant, pediatrician, family dentist, fitness  trainer, hair stylist, swim instructor, etc…and those moms who have baby products piled in their house they no longer need and would like to sell it to a local mom to make some money back.  ihelpmoms.com loves Modern Boca Mom and is here for your readers who are looking for how they can Make Motherhood Easier."
What exciting things do you have coming up for your business?  
Michelle said, "MOVE OVER ENTOURAGE….THE MOMStourage is coming! Have you ever wished that you could make money from home, while you enjoy being a mom?"
"With a 6 month old and a two year old, I am running around all day from activities, school, camps and play-dates.  I also know what it is like to juggle all of the house work, cooking and laundry and work to enjoy a great marriage with my husband.  Like many moms my daily life brings an abundance of joy, but I wanted to contribute to household income."
"I like creating my own "Mommy Money" to enjoy girls nights outs, pedicures, clothes etc. I wanted to create a way to be a mom and have something of my own to enjoy."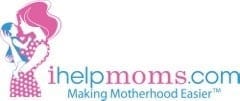 How does ihelpmoms.com MOMtourage Program work?
"Moms simply make money by being a mom and doing their everyday activities! All families have a beloved Doctor, Dentist, Preschool, Fitness Trainer, Activity Center, Birthday Party Venue, Kids Camp, OB/GYN, House Cleaner and MORE.  When moms refer a provider to create an active ihelpmoms.com provider account, they will be rewarded with a recurring direct deposit payment into their Paypal Account!" Michelle said.
"I moved to Florida from Oregon not knowing anyone.  I know how it feels not to know where to go to give my kids the best care.  Now moms can HELP other moms by referring their favorite family providers and I want to thank moms by paying them!" 
What is your ultimate vision for ihelpmoms.com Momtourage Program? 
Michelle said, "My dream is create an easy way to moms to make money, have more fun, be a great mom and work from home.  I know that being a mom is an incredibly busy and demanding job that I think moms should be paid for, so I am going to do just that!"
"My future vision is that moms will unite to grow our MOMStourage network so I can hire moms to do public relations, social media outreach, conference event planning, mom bloggers, television and radio shows ALL FEATURING MOMS working from home!" 
How can moms join the MOMStourage Program?
Simply log on to www.ihelpmoms.com and join FOR FREE! And THANK YOU for joining the mission to Make Motherhood Easier!
---
So what are you waiting for?  SEARCH, SHOP and SHARE on ihelpmoms.com for FREE today!