MOMpreneur: n. defined as a female business owner who is actively balancing the role of mom and the role of entrepreneur.
Happy Monday Modern Boca Moms! Welcome to our next installment of MOMpreneur Monday on MBMom, highlighting South Florida businesses and brands that were founded by female entrepreneurs and fellow Mommas.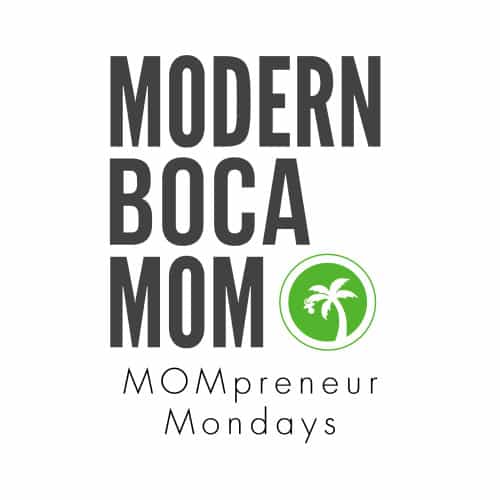 ---
Located in East Boca (260 N. Dixie Highway), Show and Tell Consignments and Boutique is a resale store of just over 4,000 square feet, packed floor to ceiling with quality, used baby and child gear, clothes and specialty items.  The store also carries great boutique inventory, some of it made by local MOMpreneurs!
#dailybocaavery LOVES to shop here.
Summer, a native of South Florida (and one of my fellow Boca High c/o 2000 grads!), has prided herself in staying close to home and continuing on a family tradition of women-owned businesses.
A graduate of the University of Central Florida, she initially saw herself in a corporate career in marketing and advertising.  But, after having her daughter at the age of 24, Summer knew she couldn't juggle being a young mom AND be the corporate businesswoman she had initially envisioned.
"Becoming a mother was more fulfilling than anything I ever imagined," said Summer.  "However, I still longed to make my mark in this world, and identify myself not only as a mother, but a successful businesswoman as well."
How did you decide to start Show and Tell Consignments?
"While at home with my daughter during her first year, the wheels started turning. I would look around at all the amazing things she would grow out of– the toys she no longer played with, her beautiful nursery and thought…..what am I going to do with all of this when she's done with it? And how many other people are out there thinking the same thing?" answered Summer.
Time to call Grandma!
Summer's mother owns a furniture consignment store in Deerfield Beach, A Summer Place.  She went to visit her showroom one day and it struck her that there were no children's resale or consignment stores in the Boca area.
(P.S. I already smell another MOMpreneur Monday feature– two generations, I love it!)
Summer had mommy friends in other states who would talk about how they always shopped at children's consignment stores and how much they loved them, but finding one locally was nearly impossible.  She decided then and there that of all places, Boca Raton needed an upscale children's consignment store.
Getting down to business…
Using Mom as her mentor, Summer developed a retail business plan, tweaking it to fit her needs and her daughter's.  One thing was for sure; she was confident that she wouldn't have any trouble finding the best of the best inventory.
"Living in Boca my whole life and knowing the South Florida area very well, I knew the quantity and quality of the baby and children's items Boca Moms were buying," said Summer.
After finding a retail location, she put the word out to family and friends and before she knew it, people started calling about items they wanted to contribute or consign to get her store started.
"Everyone loved the idea! Before I knew it, Show and Tell Consignments was in business!"
What do you remember most about your early days as a MOMpreneur?
"I remember sitting on the floor in my 4000 square foot store a month before I opened thinking, how am I going to fill this place up?!"
Clearly inventory is not an issue at Show & Tell if you've ever shopped there!  🙂
Four years after opening, Summer still can't believe it all happened as it did.  And, she has major plans for more growth and expansion in 2014.
Other than location, what makes Show and Tell Consignments different from other children's resale stores?
"I really wanted to build not just a regular children's resale consignment store, but a place where I could connect with other professional moms who had their own businesses where we could help each other and network.  Its all about moms helping moms!  I wanted to find people who made their own children's clothing, jewelry, infant accessories, boutique & gift items that I could have in the store. We now have a great assortment of these branded items including monogrammed pieces, children's rompers & tutus, headbands and bows, room decor and so much more."
What do you like most about being in business in South Florida?
"Being in South Florida definitely has its benefits!  Thankfully we have amazing weather year round, so people pop in all the time to visit with us.  We are also a home to shop for so many snowbirds who frequent our area!  They always say they are so happy we are here because retail store prices have gotten so outrageous and they only need the [children's] items for a short time. Sometimes they even re-consign their items before they go back to where home is for them and make [some money] back!"
"Living here all my life, a lot of my friends still live locally or have moved back recently to start their families.  It's so fun having them come in and being able to share in their new moments with the next generation!  I get to meet all the new little miracles they've created and reconnect with people I haven't seen in years."
"My daughter is 8 years old now and it has been so fun having the opportunity to build my own business around her and her lifestyle. I have gotten to live the dream!  I'm a mom and a career woman!"
What's coming up at Show and Tell Consignments and Boutique?
"Stay tuned for our Kickoff Summer Sale Event happening late May/early June.  Our School Uniform Sale will be starting late July/early August and a store expansion hopefully in early Fall!"
If you're interested in consigning, here are some store parameters:
Bringing in Consignment Items: 30 items max at each drop-off!
Items must be clean/spot/damage free, no missing pieces, assembled, & in sell-able condition.
CLOTHING: on hangers, wrinkle/spot/damage free; barely worn condition.
Seasonal consignment: Spring/Summer (Feb – Oct), Fall/Halloween (Aug-Oct), Winter/Ski Clothes (Oct – Feb), Holiday (Oct – Dec)
TOYS/GAMES: clean, working, w/batteries if needed; no missing pieces, extra accessories secured in ziploc bag and attached to item.
FURNITURE/BABY GEAR: clean, assembled, no missing pieces, working, w/batteries if needed
I want to offer my personal congratulations to Summer!  Being an entrepreneur is all about finding that need in the marketplace and filling it.  She did it and successfully, I might add!