Honesty time: I may be a Modern Boca Mom…but I am the furthest thing possible from a Modern Boca Chef. Why not Blue Apron at home cooking and delivery!
I don't mind shopping or cleaning up (I'm quite good at both), but cooking absolutely stumps me.  NYC just enabled me even further the past few years by having the most amazing takeout and delivery options available (miss you so much Seamless!).  So, here we are in Boca-burbia having to find recipes and shop for 7 evening meals per week for our family of 2.5 people.
MBMoms, aren't you tired?  I'm exhausted.
The last thing I want to do after working and taking care of #dailybabyavery all day is search through cookbooks and drive to Whole Foods or Publix.  That's why I'm so glad a friend of mine introduced me (and #modernbocadad) to Blue Apron.
Blue Apron at home cooking and delivery is simply a better way to cook.  It's a weekly recipe + ingredient delivery service that you subscribe to (yes, it's national!  I thought it was just in NYC at first) for approximately $60 per week for two people ($9.99 per person per meal; quantities/prices go up from there).  They plan, shop, measure and deliver ingredients for 3 surprise recipes that get delivered to your door each Wednesday.
That means our delivery is arriving today- yay!  I love getting the menu emailed to me in advance of each week and looking forward to the unique dishes.
Each week is typically one beef, seafood and chicken dish-  FYI.  You can also get vegetarian meals if you like.  The reason I like it so much is because it takes the THINKING out of 3 dinners per week.  That's a nice little break.  It also makes for a fun date night at home!
With Blue Apron, you receive:
Original Recipes from Blue Apron at home cooking and delivery
Complete meals with 500-700 calories per serving
35 minutes to prepare on average
Pre-portioned ingredients to save time and reduce waste
Easy to follow beautifully printed recipe cards
Here are some photos of recent Blue Apron meals we [read: #modernbocadad] created!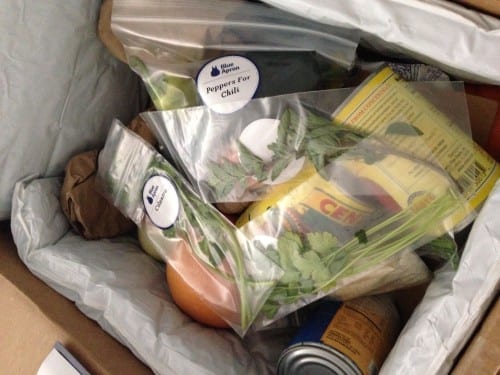 A typical delivery box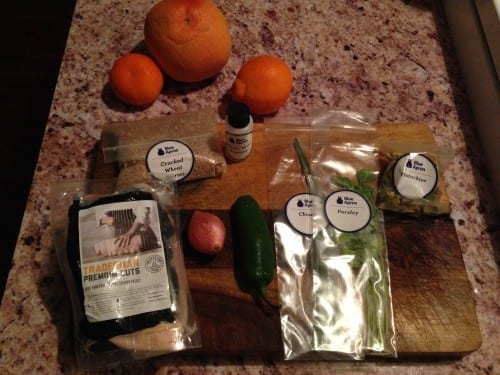 Ingredient organization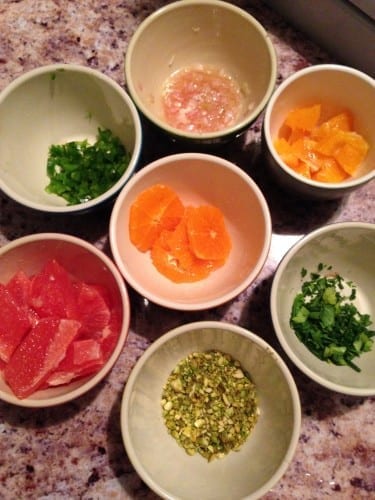 Prep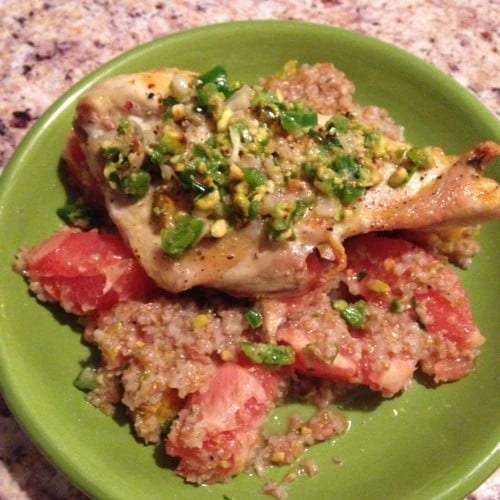 Roasted Chicken with Jalapeno-Herb Salsa, Mixed Citrus & Cracked Wheat Berries- YUM!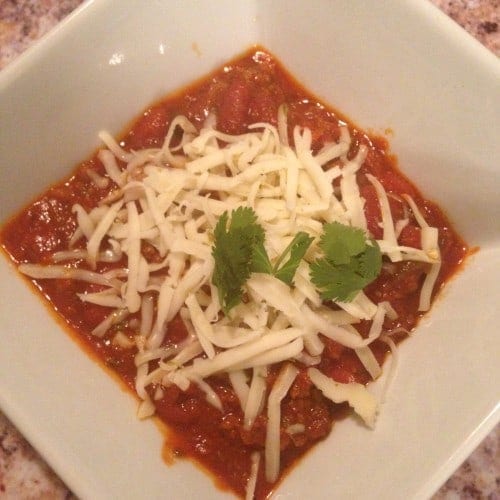 3-Chile Beef Chili with Red Kidney Beans & Pepper Jack Cheese- SPICY & DELISH!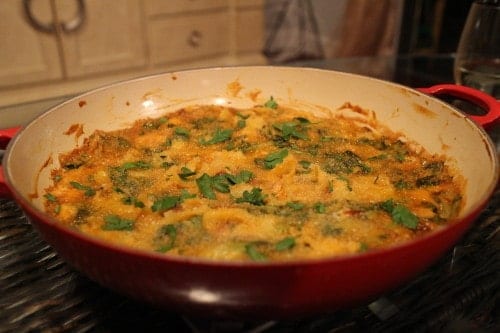 Chicken, Baby Artichoke & Spinach Casserole with Gouda Bechamel-
HEARTY WITH PLENTY OF LEFTOVERS
Everything is delivered fresh to your door and there is literally zero ingredient waste!  And, we've pretty much had extra portions with every meal which makes the price even more desirable.
Learn more about or sign up for Blue Apron HERE.
Bon appetit MBMoms!